TECNICA -
SOFTWARE MONTAGGIO
The Vegas Pro 9 collection integrates two powerful applications that work seamlessly together to provide an efficient and intuitive environment for video and broadcast professionals. This comprehensive suite offers the most robust and progressive platform available for content creation and production. With broad format support, superior effects processing, unparalleled audio support, and a full complement of editorial tools, the Vegas Pro 9 collection streamlines your workflow. From acquisition to delivery, from camera to Blu-ray Disc™, the Vegas Pro 9 collection delivers exactly what you need to produce outstanding results.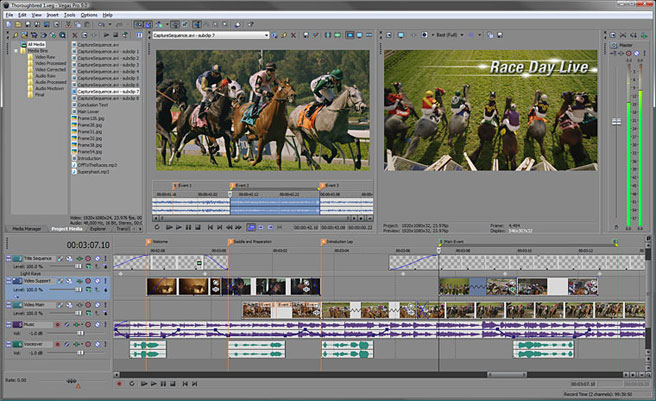 Precise Editing Tools
Efficient, Professional Workflow for 32- and 64-bit systems
Broad Format Support
Superior Audio Control
Powerful Blu-ray Disc Authoring
Interactive Tutorials
Vegas Pro 9 software has a comprehensive help system, as well as detailed interactive tutorials that provide walk-through demonstrations of common features and functionality. These tutorials provide an easy step-by-step method of learning the product and the workflow necessary to complete most common tasks.