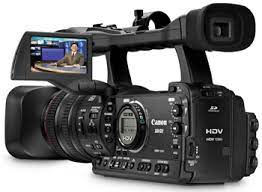 For the professional, the XH G1 combines a wealth of features with the outstanding performance of a 3 CCD, High Definition camcorder. It contains all of the features of the XH A1 plus Canon's Professional Jackpack. If you don't require the capabilities of the Jackpack, then the XH A1 may be a better fit for you.
The excellence of the XH G1 begins with their Genuine Canon 20x HD zoom lens with Professional L Series Fluorite.
Super-Range Optical Image Stabilization corrects for a wide range of camera movement and vibration, and Instant AF (Auto Focus) ensures ultra-quick, accurate focus.
The DIGIC DV II HD image processor then ensures improved color reproduction and noise reduction - for a final result that is the zenith of image quality.
If you need advanced image control, the XH G1 gives you features that let you make manual adjustments to fine-tune your video. If you prefer to concentrate on your subject and let your camcorder take care of exposure and image controls, the XH G1 lets you do that as well.
Plus, Canon's Professional Jackpack on the XH G1 gives HD-SDI Out, SD- SDI, SMPTE Time Code In/Out (selectable) and Genlock Input capabilities - a feature unmatched in this category of camera.
With a wide range of features and optional accessories, the XH G1 is a versatile, flexible and powerful performer that is sure to meet your uncompromising standards.
The Image Quality of High Definition
The XH G1 captures true 1080 High Definition resolution video at 60i, 30F or 24F frame rates (or, 50i/60i with optional upgrade). It captures a true 16:9 widescreen HD image that is made for your broadcast and theatrical projects.
Genuine Canon HD Zoom Lens
The XH G1 comes with a Genuine Canon 20x HD zoom lens that shows why the name Canon is synonymous with optical excellence. This Professional L Series Fluorite lens ensures outstanding resolution, contrast and color reproduction, and delivers clarity and image quality you won't see with conventional optical glass lenses.
3 CCD Performance
The XH G1 is equipped with three 1/3" Native 16:9 CCDs (1.67 Megapixels), delivering outstanding picture quality, highly accurate color reproduction, and a wide dynamic range with virtually no color noise.
Super-Range Optical Image Stabilizer
Canon's innovative Super-Range OIS combines gyro- and image-sensors to correct camcorder shake instantly - whether it's the fast vibration you'd experience while recording from a moving car; the medium-speed motion of hand-held recording; or the slower motion of body sway.
Instant AF
With HD, focus is more critical than ever. Instant AF is the next generation of auto focus, designed with HD resolution in mind. It combines an external AF sensor with Canon's legendary auto focus system for fast and accurate focus. Together, the two sensors reduce focusing time - even in low-light situations - and improve focusing performance on difficult subjects.
DIGIC DV ll HD Image Processor
DIGIC DV II HD is the next generation of Canon's exclusive DIGIC DV signal processing technology. Designed specifically for HD, DIGIC DV II ensures optimal image quality for HD video, with improved color reproduction - especially in skin tones, and dark and light scenes. It also employs a hybrid noise reduction system that integrates two types of noise reduction, for high definition images that are crystal clear.
Image Control
A variety of image control functions give you as much or as little exposure control as you want, and let you fine-tune your exposures for outstanding video.
Total Image Control
9 Custom Presets and 2 Custom Keys
7 Program AE Modes
Professional Jackpack
For the professional videographer, the XH G1 gives you the capabilities your work demands. The XH G1's Professional Jackpack gives HD-SDI Out, SD-SDI, SMPTE Time Code In/Out (selectable) and Genlock Input. That means multi-camera shoots are no problem using Genlock synchronization or SMPTE time code input and output. The XH G1's professional Jackpack brings together all these capabilities, and lets you quickly and conveniently make the connection you need.
Additional Features
2.8" Widescreen LCD and .57" Widescreen EVFgive you bright, high-resolution views. The LCD and EVF can be used at the same time, giving both cameraperson and director or producer a view of the action.
Fully compatible with Canon Console Image Control & Storage SoftwareVer. 1.1
Qui la scheda tecnica della nuova CANON alta definizione XH A1
CANON EXPANDS ITS THREE-CCD HD CAMCORDER LINE UP WITH NEW HANDHELD XH A1 AND XH G1 MODELS
New XH A1 Camcorder Offers 24 Frame HD Recording for Less than $4,000
LAKE SUCCESS, N.Y., July 26, 2006 – Both of Canon's new three-CCD HD camcorders – the XH A1 and XH G1 models - provide broadcasters, cinematographers and production facilities with a full line of professional, high quality, low cost HD solutions. Broadcasters, Event videographers, and cinematographers with tight budgets will appreciate Canon's flexible, powerful and feature rich XH A1 and XH G1 HD camcorders. Whether on set, in the field, or shooting a feature film, these two camcorders offer selectable frame rates and deliver stunning 1080i HD video.
Building on the image quality of the award winning XL H1 model, the XH A1 and XH G1 HD camcorders offer a Genuine Canon 20x HD zoom lens, Super Range Optical Image Stabilization, 60i, 24F, 30F frame rates and total image control. The XH A1 model will be available in late October for an estimated selling price of $3,999*, while the XH G1 model adds HD-SDI output with embedded audio and timecode; Genlock synchronization and Timecode In/Out and will be available in mid-November for an estimated selling price of $6,999*.

"Canon is now offering a full range of HD solutions that give professionals the control they need at a price point they can afford." said Yukiaki Hashimoto, senior vice president and general manager of the consumer imaging group at Canon U.S.A., Inc., "Joining the open architecture of the XL H1 model, Canon's newest camcorders round out our high definition line by providing features and design demanded by a wide variety of professionals."

Both camcorders have three 1/3 inch native 16:9 1440 x 1080 CCDs that capture images at 1080i resolution. The camcorders feature 60i, 30F and 24F selectable frame rates to allow users to adapt to each assignment. At the 30 Frame rate, camera operators can capture high-speed subjects with spectacular clarity. Filmmakers can utilize the 24 Frame rate to create the look and motion of movie film. The 60i frame rate works well in applications such as ENG or Reality TV. For a fee, users can also send their cameras in to Canon's Factory Service Center for an optional 50i/60i upgrade to conform to PAL standards.

Professional Optics for Professional Performance
Calling on more than 70 years of optical excellence in manufacturing lenses for broadcast and still photography, the camcorders feature a Genuine Canon 20x HD Video Lens. This lens includes both fluorite and UD (Ultra-Low Dispersion) glass elements to achieve HD performance throughout the whole zoom range. These elements minimize color fringing even at high magnifications. Multi-Coating reduces flare and ghosting. The "L" series lens has a focal range of 32.5mm - 650mm (35mm equivalent), delivering exceptional versatility for a wide variety of shooting situations, especially documentary and newsgathering applications that demand a wide field of view. In addition to manual focus and zoom rings, the lens includes a manual iris ring for the smooth, fine adjustment that professionals prefer. For added control, a High Speed Zoom Mode allows the zoom to respond more quickly and intuitively. Furthermore, the lens contains two built-in Neutral Density Filters (1/6 and 1/32).

The Canon XH A1 and XH G1 HD camcorders feature Canon's Super-Range Optical Image Stabilization to help deliver smooth, steady video even at longer focal lengths. The system uses two detection methods (gyro and vector) to sense the widest range of vibrations from hand-held shake, to vibration from a moving vehicle. By using optical stabilization, it can compensate for a greater degree of camera shake and avoid any loss in image quality, unlike electronic image stabilizers.

Instant AF (Auto Focus) - The Next Generation Focusing System
Since it is critical to achieve very sharp focus when shooting in High Definition, the XH A1 and XH G1 models feature Canon's revolutionary new Instant AF focusing system. It offers a dramatic improvement in auto focus speed and accuracy (compared to traditional autofocus systems). The Instant AF feature uses an external sensor, in combination with Canon's autofocus system, to significantly decrease the time it takes to find focus, even in low light conditions. This new system achieves focus instantaneously, reducing focus "hunting." Users can especially see the benefits of Instant AF in high brightness, and night shooting situations. Camera operators can capture fast, accurate focusing, even when following a moving subject.

Canon's DIGIC DV II Image Processor
The XH A1 and XH G1 camcorders feature Canon's DIGIC DV II proprietary digital signal processor, which Canon designed specifically for HD acquisition. Found also in Canon's flagship XL H1 HD camcorder, the DIGIC DV II processor provides highly accurate color and tonal reproduction needed for high HD image quality. A new noise reduction system, combined with a new gamma system, helps to reduce noise in monotone and shadow areas. The fast processing speed of the DIGIC DV II chip allows video and photos to be shot simultaneously. Furthermore, the processor's low power consumption, contributes to longer battery life.

Design
The XH A1 and XH G1 HD camcorders are designed to handle a variety of different shooting situations. Canon housed the 2.8" Widescreen LCD securely beneath the handle, which allows it to swing out easily when needed. The handle provides an additional record start/stop and a zoom control, making it ideal for low-angle shooting. The new models include toggle switches, which are standard on high-end video equipment for gain, color bars, and white balance. To reduce camcorder size, an internal battery compartment holds one Canon BP-950G or the large capacity BP-970G battery. Both camcorders offer two built-in XLR terminals with mic/line level and phantom power, an external microphone holder for attaching shotgun microphones, a voice-recording mode, and two-channel manual audio level adjustment allows precise control.

Complete Customization
The image, display items, and functions of the Canon XH A1 and XH G1camcorders can be uniquely customized for different applications and users. Camera Operators can finely adjust a total of 23 image settings, including color gain, RGB independent gain, and 6-axis matrix. These cameras provide a wide range and degree of image adjustment. Users can store a total of nine image presets in the internal memory, or to a Secure Digital (SD) Memory Card for exporting to other XH A1 or XH G1 camcorders.

Users can fully customize the camcorder's display as well, matching the preference of the shooter, or set up for a specific application. The camera operator can hide or display up to 21 different items and they can also personalize (or design for different shooting conditions) up to 20 custom camera functions. Users can save and read up to three groups of settings from an SD Card.

Additionally, camera operators can use the 'sky detail' function for removing detail or noise in the sky without affecting other areas of the picture. Users can also increase video gain up to +36dB, for capturing images in extreme low light situations.

The XH G1 HD Camcorder and the Professional Jackpack
Like the XL H1 model - the XH G1 HD camcorder includes Canon's Professional Jackpack Terminals, which are a trio of connections that provide professionals with outstanding quality and versatility: HD-SDI/SD-SDI Output, SMPTE Timecode Input/Output, and Genlock Input.

The HD-SDI connection outputs an uncompressed 1.485 Gbps digital signal with embedded audio and LTC Timecode (SMPTE 299M), reducing the number of cables and improving the camera operator's mobility, or integrating seamlessly into broadcast studios. Professionals can also use the HD-SDI output for playback or easy capture and transfer. The signal can also be set to SD-SDI, during shooting or playback (SMPTE 272M).

Users can easily facilitate multi-camera shoots with the XH G1 model due to the camcorder's Genlock synchronization input. This feature permits trouble free switching of XH G1 camcorders in a multi-camera situation. With its SMPTE time code input/output terminal, each camera on a shoot can lay down synchronous time code.

Still images
The XH A1 and XH G1 camcorders can both capture 2.0 megapixel photos at 1920 x 1080 resolution to an SD card, which comes in handy in pre and postproduction, storyboarding, and continuity applications. The user can capture photos in video color space while simultaneously recording video to tape. In addition, professionals can use the camcorder as full featured digital still camera, capturing photos in digital camera color space, complete with metering modes, shooting modes, and the option of using a Canon EX Series Speedlite Flash on its dedicated flash shoe. The camcorder includes a still image histogram and EXIF display for exposure verification.

Console Software Version 1.1
Canon's optional Console Image Control and Storage software, Version 1.1 allows users to control camcorder functions and settings remotely from a Windows-based laptop or desktop computer. They can record footage directly to a computer's hard drive as well as monitor their shoot with on-screen Vectrascope and Waveform monitors. Camera operators can use the software in a variety of shooting conditions, like mounting the camcorders on a crane, in studio, or in an inaccessible location. Console software Version 1.1 will be available as a free upgrade to owners of the original software or a complete version can be purchased this October for an estimated selling price of $599*.